Ahhh, meatloaf. Most people either love it or they hate it. I happen to be a huge fan of it when it is done right…my mama's included.
Meatloaf was the very second thing I learned to cook, (the first being homemade egg noodles that I was too young to recall helping with) having been taught by a family friend who was babysitting me one afternoon after kindergarten. Somehow, the basic recipe has stuck with me all these many years and it's one I use time & again. Oh I have made variations on the basics when I make it, but certain things remain constant in the recipe.
Always Standard (although I usually use 2 lbs of lean ground beef, the turkey sausage is a wild card)
4-5 small red potatoes, sliced thinly
1 lb of lean ground beef
1 lb of turkey breakfast sausage 
1 large egg
1/3 of a cup of rolled oats (I never measure, I just use handfuls…but each of my handfuls is about 1/4 of a cup and I use a little more than that.)
really generous splash of worcestershire sauce
good shake of garlic powder
The Wild Cards
Omaha Steaks Steak Seasoning, a good shake or two (here is where you can use whatever spices you wish…I usually tailor my spices to what I am using to sauce the meatloaf.)
1/2 a bottle of Heinz 57 Sauce (I have used pasta sauce, BBQ sauce, Ketchup…really any sauce you want can work. I did 57 because it works so well with beef and poultry alike)
Finely chopped onion and mushrooms, sauteed in a little butter or olive oil can also go in the mix. I have done this on occasion too. Make sure you really cook the mushrooms down though so they don't leach out too much and make the meatloaf too watery.
The Low Down
Layer the thinly sliced potatoes in the bottom of an oiled baking dish.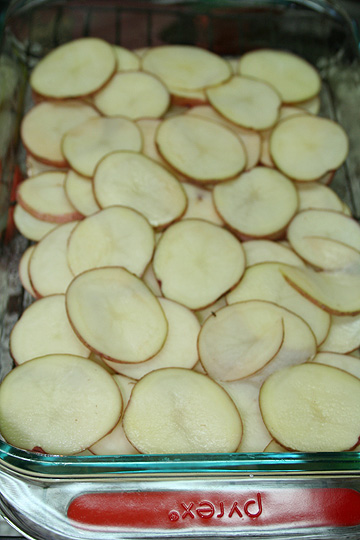 Mix together the meats, egg, oats, spices, worcestershire, etc….everything but the sauce to go on top. Mix it well…really get in there with your clean, ring free hands and squoosh it up good. Don't be a namby…sac up and get to playing with that meat! You know you want to…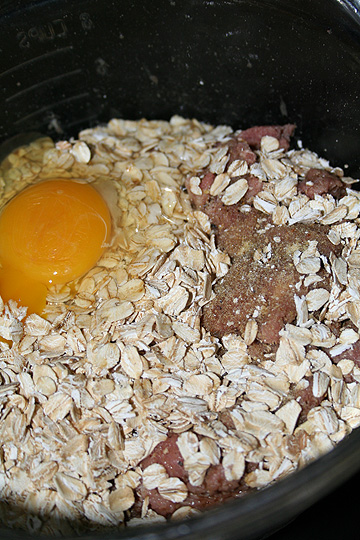 Next, spread the meat mixture evenly on top of the taters, making sure it reaches to the edges. With your finger, poke several holes in the meat spread, this will help with the sauce enflavorment (yes…yes I am saying that. eff you!)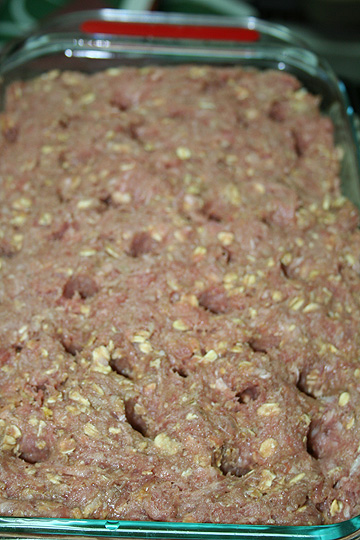 Top with the 57 sauce or sauce of your choice and shove in a 350 degree oven for about 1 hour.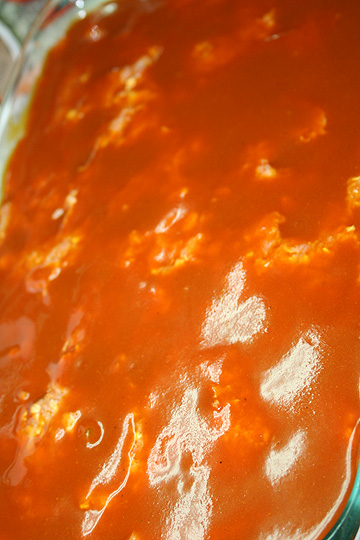 Serve to your starving family with a lovely green salad on the side & the hope that there will be leftovers. (In my house? Usually not.)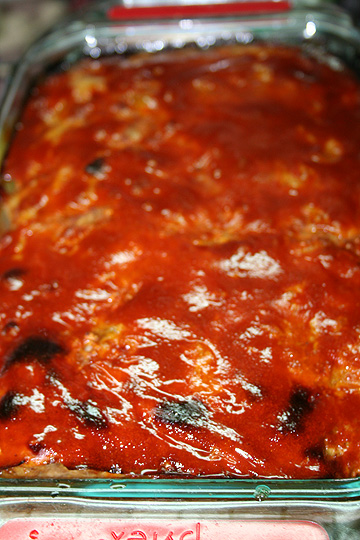 The taters will soak up all those lovely meat juices and be so tender and delicious. Trust me. Are you drooling yet?